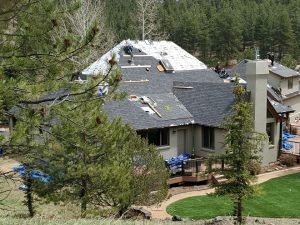 We are your one stop shop for quality work & competitive pricing – we've got you covered from the ground up.
At Baruch Construction, our field representatives work closely with insurance companies to best help homeowners understand the process if a claim needs to be made. A significant part of our job includes making sure you maximize the return on your insurance investment.
Here's our list of the top 5 things to check before you call your insurance company to file a hail damage insurance claim:
Make sure there is damage on your roof before you call your insurance company to file a claim.
How much is your deductible? Do you have a deductible that is a % of the claim amount or a flat amount? This can make a big difference n out of pocket expenses.
Do you have an ACV/RCV policy? Depreciation is the reduction of the value of a product based on factors including use, age, and type of product. Replacement cost value (RCV) is a product at 100 percent, with no use or diminished life span. Actual cash value (ACV) is the use (or life left) of a product after reduction for depreciation. If you are on an ACV policy with a 10 yr old roof, you will be paying a substantial amount out of pocket.
Do you get a discount for replacement with a class 4 shingle? Some insurance carriers can be as high as 28% off your premium depending on the area in which you live.
Make sure that the damaged sustained on your roof is more than your deductible. Sometimes a $1200 repair is a better option than filing a claim with a $1000 deductible.
Our top priority is giving you the best roofing experience possible and giving you the peace of mind that one of your most valuable assets is going to serve your needs for many years to come. We assure you of a roof that lasts.