Hail Damage Contractors
Spearfish, SD
Why Choose Us
​Fully licensed and insured.
Peace of mind – NO MONEY DOWN UNTIL SUBSTANTIAL MATERIAS ARE DELIVERED OR WORK COMMENCES.
N14-National Standard Roofing Contractor/Subcontractor.
Family-owned and local, we're here anytime you need us. We stand behind our work and service. If at any time, after we've finished your roof or restoration project, you have a problem, we come out and fix it – at no cost to you (outside of an act of nature, of course).
Utilizing over ten years of experience in the roofing and restoration business our team is dedicated to ensure that our customers are completely satisfied.
We work directly with your insurance adjuster so you don't have to! We specialize in insurance claims and work tirelessly to get an accurate settlement from your insurance carrier, which means more coverege for you!
We only use the best products for your roofing, siding, gutters, or other restoration projects.
Residential + Commercial Construction Services
No job is too big or too small. We promise to be artisans in our work, and pitbulls with your insurance company.
Roof Repair
From small roofs to steep roofs; we do it all. Hail damage? Wind damage? Hard- to-find leak?
Siding
Looking for curb appeal with easy maintenance? We install all types of siding from metal to vinyl.
Gutters
Gutter repairs and full gutter replacement, including built on site custom to match your style.
Windows
We fix or replace those hard-to-open, drafty, or hail storm damaged windows. Top quality manufacturers!
Roof Certification
Roof inspection and warranty for when you're buying or selling a home. Don't rely on just the home inspector.
Exterior Restoration
New construction or restorative decking, fencing, staining, and more. Free quotes!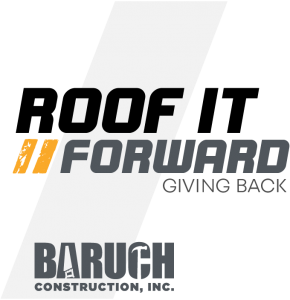 Roof it Forward: Giving Back
Our annual giving back program finds a deserving homeowner who, due to life's circumstances, cannot afford to replace the damaged roof on their home. We at Baruch Construction pull together our resources and manufacturers to provide a new roof for the selected homeowner.